Monday the 1st I was glad that finally there was a well done April Fool's joke. Wednesday we took Nina to the Kennedy Center as Idina Menzel was headlining the Kennedy Center Gala. Unfortunately our plan to eat at the Kennedy Center was blown because the restaurants were closed for the gala. And the one restaurant close by ran out of food – I ordered pizza from &pizza a half mile away and it was ready when I got there. Concert #9 was still worth the trouble. Nina's second Broadway related concert in a month, with songs from Frozen, Rent & Wicked, as well as stunning covers of "Dear Prudence", "I Melt With You" and "Bridge Over Troubled Water".
Friday we again headed to Richmond for a cheer competition. A new hotel every time, this time the Four Points by Sheraton Richmond. Nina voted for sushi for dinner, so we ate at the nearby Hiro Sushi. They had a kid's meal of Chicken & Vegetable Tempura, 4pcs California Roll, Edamame and Miso Soup – she tried everything but the Miso Soup (and bonus points for another girl of the same age there).
The next morning, after brunch at the hotel, I dropped them at the Arthur Ashe Athletic Center then checked out of the hotel. It was the third time that season in Richmond, but the first time I had time to make it to a record store like Eric Kader and I used to do in college. This was pretty decent. Jill said "Nina's team rounded out their season with a huge WIN! As always, so proud of these girls."
I picked an Italian restaurant, Arianna's, that was on the way out of town, and we got there first, ordered a cheese pizza and drinks to start, and waited. And waited. Then Jill reached out to the cheer moms, who were wondering where we were – because there was ANOTHER Arianna's, closer to Richmond, but also closer to the Ashe Center. So we drained our drinks and packed our pizza to go, only to be told by the asshat manager of the Sheppard St location that we couldn't bring in "outside food". So we ordered again (and snuck Nina a slice of that pizza). Food was only ok.
The next day Dad and Patricia came over for computer help, but it was also his birthday so I made eggs benedict with steamed artichokes to also dip in the hollandaise sauce (an old family tradition). Tuesday Nina went to a STEAM night at school. Wednesday the 10th Jill said "Nina wanted to know if astronauts could sleep in a rocket ship. So now we know how they do, and we both want to experience something so cool!!"
Saturday April 13th was the start of Shanty Spring Break, as we'd decided to vacation with the Cannons since our spring break coincided for the first time ever. We decided to meet halfway and rented a house in the Poconos for a week. We stopped at Arbys for lunch because neither Nina or Jill had eaten there and they were curious (it was a win/win). We arrived at the house only minutes before the Cannons and the girls explored while Chris and I went grocery shopping at the nearby Wal Mart.
Sunday we drove 2+ hours to Hersheypark because it was the only day it was open when we were up there. Nina was delighted to have someone with her in the back seat. The girls all had a fabulous time on the rides. After lunch they admired one guy with 2 giant bears he'd won, and he gave them the bears. We let them lug them around a while before explaining they wouldn't fit in our cars and they'd have to give them away to other kids. We stopped at La Casita De Familia for some delicious authentic Mexican food. Unfortunately road construction and a storm made for a tough trip after that, although figuring out how to stream the first episode of Game of Thrones made up for that.
Monday was continued yucky weather; Jess and Jill did some more shopping while Chris and I took the girls to a local playground during a break. But they'd brought their Nintendo Switch and an extra Kindle (we managed to leave Nina's charging at home) so they were all pretty happy. Tuesday we walked over to the lake, then after lunch went to Pocono Rocks! so the girls could use the climbing wall, bounce houses, and ninja course. We also checked out Ye Old Village Trader next door. After we were done, we went across the street to the Casino Theatre & Village Malt Shoppe to get ice cream and watch a movie. Or at least that was the intention – after 15 minutes of Missing Link, Nina was done and we played games in the arcade until the movie was done.
Wednesday we went to the Aquatopia Indoor Waterpark at Camelback Lodge. We started in the wave pool, then went on to the play structure and hot tub. Only the oldest girl was interested in the slides, but after we endured a long wait to get lunch (they've never heard of calling numbers, apparently), we took Nina up to ride the Venus Slydetrap (and waited out a closure when we were just about to ride it). After that, she was all in on the slides and more wave pool. Jess, Jill and I started watching Umbrella Academy.
Thursday I wanted to go to a CD store and Jill wanted to go to a yarn store, so we all drove to Wilkes-Barre to Gosh Yarn It!, then Chris and I went over to Gallery of Sound while they finished up and got some Italian ice. We traveled to Dickson City Laser Tag next where we all played an epic pirate themed game, then played games in their arcade. The girls had mostly played Mario Kart 8 Deluxe, but after they went to bed I was curious about Super Mario Odyssey and played into the wee hours.
Saturday the 19th it was time to leave, we cleaned up and packed up and got going. Jill said "I adopted a BFL sheep this year from Fluffy U Fiber Farm and got to pick up my fleece today! We met the sheep, goats, and sheepdogs and of course, their wonderful shepherd Katrina. It is a really gorgeous fleece! We drove down to Sweitzer's Countryside Fiber Mill to drop it off in Heather's capable hands and I will be seeing it again as pin drafted roving at Shenandoah Fiber Fest. I was so grateful to educate myself and my family about the local fiber industry here!" And due to road closures went the last mile to the fiber mill down a narrow gravel road in the rain, it felt very unsafe. The traffic everywhere was terrible and we took back roads and ended up at Maggie's in Westminster for a late lunch of soup and sandwiches, then by the time we got to the Beltway the traffic was pretty good. That night a tornado touched down just 4 miles north of us. Sunday was Easter and Jill said Nina had a "prep curl selfie! N insisted". I made a pecan crusted pork loin for dinner.
Monday the 22nd after a lousy start with a visit to urgent care for a tetanus shot after getting the deck boat ready for disposal, I went to Concert #10: Nick Mason's Saucerful Of Secrets at Constitution Hall. I don't love all the old Pink Floyd, but I do love Meddle, and "Fearless" live was wonderful. Of course "Set The Controls For The Heart Of The Sun" and "One Of These Days" were great as well. In a nice flashback, there was even a guy selling bootleg t-shirts after the show (can't remember last time that happened). Tuesday Nina's cheer gym had rebranded to Stingray Allstars and they were letting all the old trophies and awards go so as Jill said "The Delta Sportmanship trophy has a new home now… from N's first team last year".
Wednesday was Concert #11: Alan Cumming at Strathmore. Very funny, plus some great covers including P!nk's "Just Give Me a Reason" and Moana's "How Far I'll Go". Jill said "We saw Alan Cumming tonight on his Legal Immigrant show tour -absolutely incredible! I had a goofy smile on my face pretty much the whole time he was onstage. One of my favorite evenings out, for sure."
Friday was Nina's spring school picture. Saturday the 27th Nina went to a birthday party in Warrenton and I was pretty happy when I found out that Old Bust Head was nearby. I brought a growler and enjoyed some loaded Garlic Tots from Two Smooth Dudes. Later, this was relevant to my interests; also, I love this gif they made.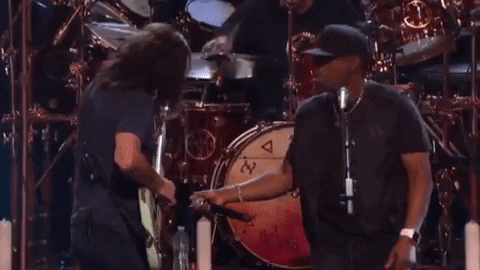 Sunday Jill's sisters were here for Maddie's birthday and we went to Cheesecake Factory for brunch (Jill and them had gone to Georgetown on Saturday). Later I went to the GameStop in the other mall to get a working nunchuck and I wanted to finish Super Mario Galaxy on the Wii. That night it was time for #gameofbeers. Jill bought me a 4 pack of Game of Thrones beer for Christmas and with 4 episodes left it was time. 1st up was Hand of the Queen barleywine. Don't drink too many, but smooth with a nice 10.7% ABV to get you through a 90 minute episode. B