Sunday the 1st Nina played in the parking lot with the neighbor kids (skateboards, car washing, and microscopes), then my dad came over for lunch and computer help. Later she and I went to the Fall for Fairfax Kidsfest – I bought her an unlimited rides wristband and she went on everything she could.
Monday I was sad as Tom Petty's passing meant their were only 2 Wilburys left now. This seemed appropriate for all of today (including the Las Vegas shooting), from the last time I saw Tom Petty. Also, we must never forget this awesome "Wildflowers" b-side. I was also amazed by this double bill: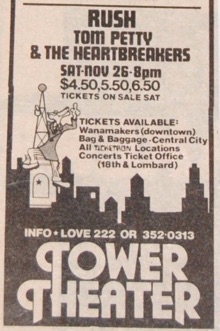 That week's important work was: Not So Petty: A Tom Petty covers collection. Only one duplicated song, because I loved both versions of "Free Fallin'".
A Bird in the Hand, a nest-like sculpture at Reston Town Center (and Nina's favorite place to play hide and seek) was coming down, so Nina and I went over on Saturday the 7th for one last game on our way to Flavors of Fall (formerly Reston Oktoberfest). That night we all went to Disney On Ice (now with Moana). They've deployed new technology: a machine that can produce smoke in the middle of the air. I fear for our future.
Sunday Nina had some important musical education: karaoke "Free Fallin'", guitar practice, and watching Rush's "Exit Stage Left" to learn about double neck guitars. That night I met up with Linda and drove to The Wharf to check out the soft opening of The Anthem, the new giant club from the owner of the 9:30 Club. The lines to get in and at the bars were pretty crazy, and the way you got your food was insane (shouting out numbers during a rock concert?), but we got an interesting show: Danger Painters (with Bob Boilen and Michael Barron from Tiny Desk Unit), Bat Fangs (with Betsy Wright from Ex Hex), and The Messthetics (with Brendan Canty and Joe Lally from Fugazi). It was nice to get the feel of the club before the official opening. I tried to make the Little Silver show over at Galaxy Hut as well, but got to see some fellow elementary school alumni (Steve Curtis was a neighbor).
Thursday I was back at The Anthem, this time with Rob for the sold out opening with the Foo Fighters. I was relieved that Metro would be running late due to the Nationals playoff game (no thanks to the skinflint owners). While waiting in line, I initially tried to get dinner at Shake Shack (all of the open restaurants had an hour long wait or more), then Rob texted me that he was walking past the Red Hook Lobster Pound kiosk and I hightailed it over there (we also got to see The Bacon Brothers performing a free show outside with fireworks afterwards). We missed the last minute added opener Trouble Funk, but The Struts were great fun. And the Foo Fighters are a heck of a band, great career spanning setlist. I could do without the 2:30am bedtime, though. I took a picture of my tickets to thank the owner for 25 years of his concerts.
Saturday the 14th Jill was out all day working and at a sewing class, but I kept Nina busy. After cheer class we went to the local fire station open house where she got to sit in the truck and use the hose. Later she had her swim lesson, then we went to Frying Pan Park's Fall Festival, and finished up with the Comic Drawing Workshop for Kids, part of Fall for the Book. She did a hike the next day in Daisy Scouts with Jill.
Tuesday the power was scheduled to go out at 9AM, which was fun since that was Nina's school picture day, but she was ready on time before the power went out. Saturday after swim lesson we went to the police station open house, then she got her face painted at the Woodland Park Crossing HarvestFest before she started practice for The Nutcracker.
Sunday started with kids fishing, then we had an afternoon at the Shen Yun Symphony Orchestra at Strathmore (not bad, but it turned out it was music only, and Nina had requested it because she like the dancers in their videos). Traffic was so bad on the Beltway we diverted into DC, and made an last minute decision to have an early dinner at Cactus Cantina (Jill had been craving it, and I certainly didn't mind the jalapeno margarita). Later we went out for an evening at The Glow before I got my homemade birthday carrot cake and Sue and Dave arrived for a visit. I'm another year older, I don't know if I'm any wiser, and many more grey hairs. But I know to be true these wise words on marriage.
Monday the 23rd we found out cancer took another good one. R.I.P. Sandy. Tuesday I was gobsmacked to find Darius Rucker covering a Drivin' N' Cryin' classic (we played it at our wedding). Friday I actually had too many hours and left work early, getting a late lunch at the new Crooked Run Brewing in Sterling (they have a Senor Ramons Taqueria inside) before going to Home Depot and picking up new lights for the deck (a nice warm day for installation too). Saturday Nina tried on her costume and we went to Lane Anne for Boo & Brews (Nina did not get the brews).
On Halloween, Nina had a blast with the neighborhood kids, then I got a treat: my first concert with The Dresden Dolls. Of course they brought along a horde of zombie Madonnas, and an amazing Rage Against the Machine cover.